Rotary Latch 30
Part. N° 21.0949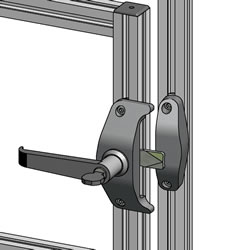 APPLICATIONS
- Locking 1/4 turn latch for swinging doors made from 30 series profiles
-Can be used with a 30 series door on a 45 series frame. Footprint is 7.5mm wider than in right picture. Click here for picture.
- This handle also acts as a door stop
-Handle is simply bolted to the t-slots & is adjustable up & down.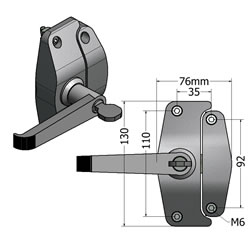 TECHN. DATA / ITEMS SUPPLIED
- Cast aluminum housing, powder coated gray
- Handle includes cam & M6 screws & nuts for mounting
- Weight
- kg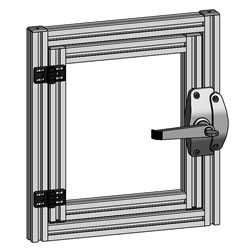 ASSEMBLY
- No processing required. Simply mount to door & frame with supplied hardware.
- Leave approximately a 5mm (.2") gap between door & frame.