Cover Profile Silver
Part. N° 22.1179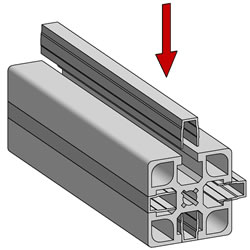 APPLICATIONS
- Closest match to the profile color of the plastic slot covers.
- T-slot cover to improve appearance or to make frame easier to clean & more hygienic
- Can be installed upside down to hold a panel or square mesh
- May damage wires. Use Cover Profile L or Cover Profile K when enclosing wires in t-slots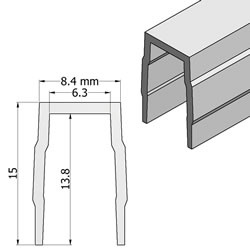 TECHN. DATA / ITEMS SUPPLIED
- Rigid PVC, silver metallic. Very close to look of profile.
Click here for larger photo
- Order cut to length +/- .010"
- For cut charge use Part # 25.1082
-Full Length
- 2m (78.74")
td
- Weight
- .06 kg/m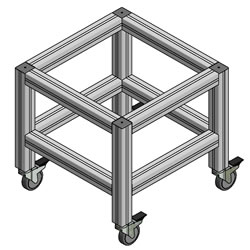 ASSEMBLY
- Snap into t-slot for flush t-slot cover. Can be pushed in thru the side of the t-slot. It isn't necessary to slide it in from the end.
- Snap in reverse direction to hold a panel in t-slot